Flea and Parasite Medications
Advantage, Advantix, Program, Frontline,Sentinel, Heartguard, Interceptor, and Revolution. What do these medications actually do besides kill fleas?, How do they do it?, and What is the efficacy of each product? Vet.com has collected all the info for you, the pet owner, to make an educated decision for your pet.

(always consult your vet)
read on>>
Protection against West Nile virus and Lyme disease

Bayer HealthCare's Animal Health Division in the USA is getting off to a great start in 2003 with a new veterinary product to combat ticks, fleas and mosquitoes. The new product eliminates the vectors that transmit Lyme disease and West Nile virus, two diseases that represent a danger to humans too.

be informed>>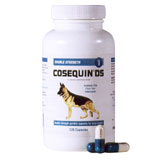 Maker of Cosequin Reminds Pet Owners to watch for Signs of Poor Joint Health
Has your cat had trouble lately jumping on the counter? Does your dog just lie there when you throw a ball rather than chase after it? If so, your pet could be suffering from achy and stiff joints.

read more>>
Simple First Aid For Pets- Sulfodene®
Ever have an itch that just won't stop, no matter how much you scratch? Well, if it's happening with cats and dogs it could be a sign of a problem. Excessive scratching could be an indication of fleas, ticks, allergies, dermatitis or an open wound.

how to help your pet>>
FIREWORKS, LIGHTNING AND THUNDER STRIKE FEAR IN PETS
Developed by veterinarians, D.A.P.™ (Dog Appeasing Pheromone) is a synthetic pheromone that naturally controls and manages pet behavior associated with anxiety, fear, stress or phobias.
protect your pet>>
VPL Launches Phermone Mist for easing Equine Anxiety
Modipher EQ™ Mist (Equine Appeasing Pheromone) from Veterinary Products Laboratories (VPL). The product is for equine veterinarians who wish to offer an alternative to owners looking for a natural, safe and effective way to reduce stress and thereby modify horse behavior caused by fear-based stress.
new equine product>>
Cosequin Caps 180ct
N utritional supplement for joint relief for your dog and cat...
Greenies Dental Treat Petite 24 Pack
Greenies are a chewy highly nutritious treat proven effective in preventing buildup of dental tartar.