DOG MEDS:

HEARTGARD® Plus (ivermectin/pyrantel)
ivermectin/pyrantel
#1 Choice of Veterinarians for Heartworm Disease Prevention1
HEARTGARD Plus is the #1 choice of veterinarians for heartworm disease prevention!1
Heartworm Disease is 100% preventable with HEARTGARD Plus! All you have to do to protect your dog from the threat of heartworm disease is to give HEARTGARD Plus once a month and use as otherwise directed. Only HEARTGARD chewables and HEARTGARD plus come in a real-beef chewable that dogs love. HEARTGARD Plus also treats and controls roundworms and hookworms.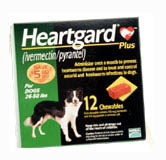 HEARTGARD Plus has a wide margin of safety for all sizes and breeds of dogs. It is approved for use in puppies as young as 6 weeks, small dogs regardless of weight, pregnant or breeding bitches, stud dogs, and Collies.
HEARTGARD Plus is available for three weight ranges; 0-25lbs, 26-50lbs, and 51-100lbs. For dogs over 100lbs, mix and match to reach appropriate weight range. HEARTGARD Plus comes in 6-dose dispensing packs or our newer more convenient 12-dose dispensing pack. The 12-dose packaging provides the convenience of having a full year's supply of HEARTGARD Plus on hand.
Dogs 6-months of age and older should be tested for heartworm disease prior to being put on a preventive program and tested annually thereafter.
HEARTGARD Plus comes with The Plus Guarantee of Satisfaction! Your satisfaction with HEARTGARD Plus is guaranteed when used as directed.
HEARTGARD Plus is 100% effective against heartworms, and treats and controls other dangerous parasites, Plus, your dog will accept HEARTGARD Plus Chewables, and consume the whole dose every time. Ask your veterinarian for details about The Plus Guarantee of Satisfaction from HEARTGARD.
HEARTGARD Plus is available only through a licensed veterinarian, so make an appointment to see your veterinarian today.
HEARTGARD is well tolerated. All dogs should be tested for heartworm infection before starting a preventive program. Following the use of HEARTGARD, digestive and neurological side effects have rarely been reported. For more information contact your veterinarian or visit www.heartgard.com.

HEARTGARD Plus is available in convenient 6 and 12 dose packs.
Preventitive Medications:
PROGRAM -prevent flea eggs and larvae from developing. This breaks the flea life cycle at its base, and effectively controls the flea population.
FRONTLINE -brand products is the longest-lasting, most complete product for controlling fleas and ticks. FRONTLINE for dogs and cats is highly effective, easy to use and provides superior, guaranteed protection. What's more, FRONTLINE is available in three convenient formulations to make it easy for you to protect your pet.
SENTINEL -there are five nasty parasites that threaten your dog: fleas, heartworms, hookworms, roundworms and whipworms. Only SENTINEL® Flavor Tabs® can protect against all five parasites at once.
HEART GUARD -Heartworm disease is 100% preventable with HEARTGARD Plus! All you have to do to protect your dog from the threat of this deadly infection is to give HEARTGARD Plus once a month and use as otherwise directed.
INTERCEPTOR -prevents deadly heartworm disease, while it protects your dog against roundworms, hookworms (A. Caninum) and whipworms.
ADVANTAGE -Because it works so fast, Advantage provides relief from fleas within minutes. Advantage is proven to stop fleas from biting in 3 - 5 minutes after application. Advantage kills 98-100 percent of fleas within 12 hours of application. In addition, one convenient treatment lasts for up to one month.
REVOLUTION -Revolution is the first-ever FDA approved, topically-applied medication for both dogs and cats that: Prevents heartworm (Dirofilaria immitis) disease, Kills adult fleas (Ctenocephalides felis) and prevents their eggs from hatching, Treats and controls ear mites (Otodectes cynotis), Treats and controls sarcoptic mange (Sarcoptes scabiei) in dogs, Treats hookworm (Ancylostoma tubaeforme) and roundworm (Toxocara cati) in cats, Controls American dog tick (Dermacentor variabilis) infestations in dogs.
K9ADVANTIX -Is your dog being attacked by mosquitoes, ticks and fleas? If you are looking for information on the only product that can keep mosquitoes, ticks and fleas off your four-legged friend then you've come to the right place. At K9Advantix.com we'll provide you with the information you'll need to rid your dog of these pests forever!
Resourceful Links to Flea and Parasite Medication Manufacturers>>