Fleas, ticks, and other parasites can be a debilitating for both dog and owner. Vet.com has compiled imformation on the top flea and parasite medications for your dog and puppy. Although there is no replacement for a veterinarian diagnosis we hope this resource helps to educate pet owners to the flea, tick, and parasite control options available.

PROGRAM
-prevent flea eggs and larvae from developing. This breaks the flea life cycle at its base, and effectively controls the flea population.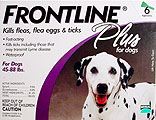 FRONTLINE
-brand products is the longest-lasting, most complete product for controlling fleas and ticks. FRONTLINE for dogs and cats is highly effective, easy to use and provides superior, guaranteed protection. What's more, FRONTLINE is available in three convenient formulations to make it easy for you to protect your pet.

SENTINEL
-there are five nasty parasites that threaten your dog: fleas, heartworms, hookworms, roundworms and whipworms. Only SENTINEL® Flavor Tabs® can protect against all five parasites at once.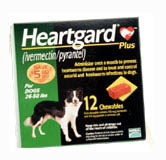 HEART GUARD
-Heartworm disease is 100% preventable with HEARTGARD Plus! All you have to do to protect your dog from the threat of this deadly infection is to give HEARTGARD Plus once a month and use as otherwise directed.

INTERCEPTOR
-prevents deadly heartworm disease, while it protects your dog against roundworms, hookworms (A. Caninum) and whipworms.

ADVANTAGE -
Because it works so fast, Advantage provides relief from fleas within minutes. Advantage is proven to stop fleas from biting in 3 - 5 minutes after application. Advantage kills 98-100 percent of fleas within 12 hours of application. In addition, one convenient treatment lasts for up to one month.

REVOLUTION
-Revolution is the first-ever FDA approved, topically-applied medication for both dogs and cats that: Prevents heartworm (Dirofilaria immitis) disease, Kills adult fleas (Ctenocephalides felis) and prevents their eggs from hatching, Treats and controls ear mites (Otodectes cynotis), Treats and controls sarcoptic mange (Sarcoptes scabiei) in dogs, Treats hookworm (Ancylostoma tubaeforme) and roundworm (Toxocara cati) in cats, Controls American dog tick (Dermacentor variabilis) infestations in dogs.

K9ADVANTIX
-Is your dog being attacked by mosquitoes, ticks and fleas? If you are looking for information on the only product that can keep mosquitoes, ticks and fleas off your four-legged friend then you've come to the right place. At K9Advantix.com we'll provide you with the information you'll need to rid your dog of these pests forever!
Resourceful Links to Flea and Parasite Medication Manufacturers>>