Vacationing Pets and Owners Driving Demand for Travel-Friendly Pet Products and Services
This summer travel season, more pets will hit the road with their owners than ever before. According to the American Pet Products Manufacturers Association (APPMA) more than 15 million Americans travel with their pet each year. And, expanding on this trend, are a growing number of companies catering to an increasing demand for pet-friendly travel products and accommodations. "With more and more people considering their pets as members of the family, a growing number of companies and service providers are also embracing four-legged companions, said Bob Vetere, COO and managing director of APPMA.
In fact, in its latest pet traveling guide, AAA lists more than 12,000 lodgings that accept pets, up eight percent from last year -- double the increase from the year before. Along with these new pet-friendly hotels and airlines, pet adventure outfitters, and travel agencies, hundreds of innovative products are hitting store shelves making a journey with man's best friend more convenient than ever. Here are a few top picks.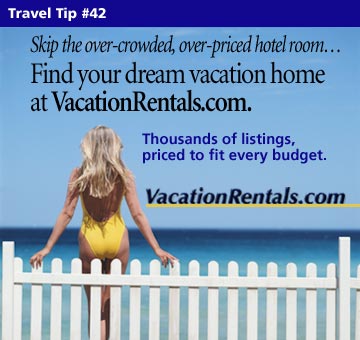 Vacation Rentals .com offers many pet friendly vacation lodging options.
No road trip is complete without a sleeping bag. Bamboo makes sleeping bags for cats and dogs with built-in toys. Both bags roll up for easy storage and transportation and convert into blankets for lounging. www.bamboopet.com
If traveling stresses out your pet, try Relaxed Dog Travel Calm by Veterinarian's Best. The formula helps prevent stress, motion sickness and sensitivity to loud noises such as fireworks or thunder. www.vetsbest.com
If your dog likes to stick his head out the window, try Doggles, goggles for dogs. www.doggles.com
Keep your pet's records handy at all times with the PetsBook pet record book. The gold foil stamped vinyl cover carries a photograph of your pet, certifications, allergies, medical history, commands, vaccination records and owner information. www.petsbook.com
For when nature calls, Pedigree offers POOPIKS, the lavender scented, purple, poop-mitts, convenient for quick pick ups. www.pedigree.com
For accidents, Bio-Pro Research offers Urine-Off which removes urine stains and odor, great for car upholstery, hotel room linens and carpet. www.urine-off.com
For grooming, the travel size spa from Cloud Star is a convenient plastic carrier that includes a travel size wash, rinse, bar soap, and collapsible water bowl and Buddy Biscuits. www.cloudstar.com
For water on the road, Innovative Products makes the Water Boy, a portable, no-splash, no-spill, three quart pet drinking container. Water is only released in controlled amounts when laid on the container's side. Container can be personalized. www.water-boy.com
Waggers Travel Snack Packs are a great, handy trial size portion of treats perfect for road trips! Re-sealable package fits into dashes, purses, totes, sacks, briefcases. www.waggers.com
US Grain's Regal Travel Bites Food Bars also offer a convenient snack for your dog while traveling and during associated activities like hiking. www.regalpetfoods.com
KosherPets Freeze-Dried Beef Patties are light weight with a long shelf life, making them great for traveling. A one-pound bag will feed a 20-lb. dog for a whole week. www.kosherpets.com
Planet Dog offers a complete line of unique and innovative travel products which includes the Planet Dog Pack, Travel Food & Water Bowl, Travel Feedbag, PDOG Flyer, a Fleece Blanket and a comfy Travel Bed. www.planetdog.com
The Trek Dog Portable Vehicle Access System is an innovative step platform great for getting older dogs into an SUV. It's portable and lightweight and can also be used as a step platform for loading a roof rack, or washing the vehicle. www.trekdog.com
Make sure to buckle up with PetBuckle Safety Systems. The product comes with an adjustable harness that attaches to any seat belt and is designed not to choke or cinch into the pet's abdomen area under stress. www.petbuckle.com
It's always a good idea to carry a first aid kit, and there are several good ones on the market:
The Weatherproof Pet First Aid Kit from Pet Care Products includes 30 of the most recommended medical care items, and the snap-lock hard pack includes a water-resistant Care Card that provides valuable information for pet care and emergencies and fits under a car seat www.petfirstaid.org
Creative Pet Products also makes a kit complete with all of the first-aid medical essentials a pet needs as well as the Roam to Home tracking system. If your pet is lost anywhere in the United States or Canada, Roam to Home will locate your pet's home. www.petfirstaidkits.com
The Mini Clip N Go from Medipet is an even smaller travel kit with the first aid essentials. www.medipet.com
Pet carriers are also getting safer and more comfortable and convenient…here are a few:
The Pet Car Seat lookout is a fun new way for pets to travel. It's a soft bed that uses the car's seat belt as part of the restraint system and is available in four sizes. www.snoozerpetproducts.com
Come Along Carrier from Super Dog is an enclosed design that reduces light, providing relaxation for light sensitive small pets during travel.www.superpet.net
The Care~eze Pet Carrier is ideal for airline travel, training and boarding, and is easily storable when you're done using it. www.zoologik.com
The Pet Auto Traveler by Rubbermaid offers a comfortable bed enclosed with mesh material and securely buckles in with a seat belt for safe and comfortable travel. www.rubbermaidproducts.com
Petmate's Portable Home combines the best features of a portable pet kennel and permanent pet shelter with a lightweight convenience appreciated by travelers. www.petmate.com
Global Pet Products offers a line of pet travel carriers including the PetPocket, a hands-free, vest-style pet carrier for small pets; the Pet Wheel-Away, a wheeled, airline-approved, soft carrier that converts to a backpack, travel bed and car seat; the Pet Stow-Away, an elevated car seat that converts to a suitcase and pet bed; the BackSeat Hammock, which attaches to front and rear headrests and protects your pet and your seat; the ShadyPet, the ultimate pet window shade and the Bicycle Basket and the Cozy Car-Go for pet comfort and safety. www.globalpetproducts.com
The travel kit from Eurogroup looks like a traditional suitcase with handle that you can roll behind you and includes a carrier for your pet, a sport bag for your pet's belongings and rain cover. The company also offers the PetTube, a tunnel shaped, collapsible structure for the car that folds flat when not in use. www.dog-bag.it
Here are some tips from APPMA for a safe vacation with your pet:
Call ahead to make sure that your pet will be welcomed wherever you are staying.
Make sure your pet's vaccinations are current and that you carry summarized medical records. Many places may require a health certificate.
Have identification on your pet at all times with a phone number and area code in case your pet decides to take a vacation of its own.
Check with local veterinarians about local hazards such as toxic plants, ticks and heartworm, Lyme's disease or rattlesnakes.
If your pet is a creature of habit, take the pet's usual food and some of the pet's toys with you.