Canine arthritis leads to business
By Richard Vivian
OBSERVER STAFF
It was an idea that developed out of sympathy and a desire to make an old dog comfortable in her elder years – easy-reach raised pet bowls. Now, Mike and Chris Schaefer of St. Jacobs have turned the concept into an emerging business, known as Creature Comfort.
The couple is marketing the product – also available for cats – via the Internet, and is beginning to see an interest from retail outlets.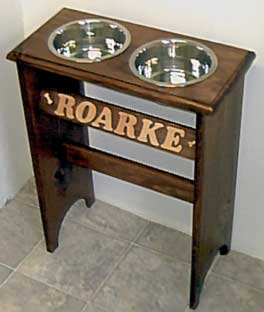 CREATURE COMFORT
Easy-Reach Raised Pet Bowls
Custom sizes offer optimum ergonomics for your pet
Custom colors enhance home decor
Ideal for pets with physical challenges due
to size, age or medical concerns such as arthritis,
hip dysplasia, joint dysfunction, digestive issues etc.

www.creaturecomfortcanada.com
"She had suffered from quite severe arthritis, but then tore a tendon in her leg and had to lay down to eat – she just couldn't accommodate the bending," Chris Schaefer said, referring to their then 15-year-old Shepherd-cross, Cory. "We were trying to raise [the bowl] because she was in such discomfort trying to bend to the floor. Then she didn't lie down to eat anymore. She was perfectly happy with the raised feeder."
It was Mike's father, the late Robert Schaefer Sr., who created the prototype, which Cory continued to use for two years before she passed away in 2001. A year later, the couple bought a new dog, Nikki, a black lab.
Because of the height differential between Shepards and labs, a new raised-bowl was in order; with it, the inkling of a new product began to emerge.
"It was pretty much just from friends saying 'that's a great idea, you should sell them.' And a few asked us to make them for gifts. We just decided that we should be making this available to anyone who wanted it," she said of the business' origins.
The bowls are particularly helpful for large breed and/or senior dogs, she said, pointing to arthritis and hip displacement as common problems. Raised bowls also lower the strain on dogs with neck injuries.
"There's a lot of arthritis out there – it's pretty common," she said.
In December, they launched their Web site – www.creaturecomfortcanada.com – and "a trickle" of orders has come in.
"That's slow at the moment," she said. "It's a word-of-mouth thing – as one [person] gets one, their friend sees it and says 'I want one too.'"
A five-per-cent portion of each online order goes to one of several animal-related non-profit organizations. Purchasers can choose from a list on the Web site, otherwise the funds are donated to the Kitchener-Waterloo Humane Society.
"It's a big part of who we are. Mike and I are huge animal lovers," she said, noting they both grew up with dogs. "If even our little contribution can save a life or make one more space for someone to come in and not have to wander, then it was worth it."
Each order takes Mike Schaefer about two days – he works full-time outside the business – to complete. He crafts them in their garage, building them to the specified custom height and bowl size. Buyers also have a choice of several stain colours or natural wood.
While online orders haven't taken off, Creature Comfort is also looking to get into the retail side of things.
"We've had a lot of retail interest," Chris Schaefer said, noting she planned to have the product available in a store for the first time this weekend.
"We've had a lot of interest from suppliers … for standard sizes," she said, adding people often want something they can take with them right away.
Creature Comfort also sells 'guardian angel' pins and tags, of which $1 from the sale goes to the K-W Humane Society.